The Quant project launched in June 2018, aiming to ensure seamless interoperability between multiple blockchains and link networks on a global scale without reducing the efficiency of the network.
The Quant project encompasses the Overledger blockchain operating system and QNT token. It's worth noting that the Quant (QNT) token price increased about 8 times in the first quarter of 2021.
Read on to learn everything you need to know about the Quant project, including where and how to buy Quant tokens and why you need to buy QNT.
Let's get right to it!
History of Quant
Quant Network is a blockchain technology company aiming to achieve universal interoperability between blockchains using its Overledger OS blockchain operating system.
Blockchain technologist Gilbert Verdian created the network in 2015. Verdian was previously the chief information security officer at the Mastercard card company, Vocalink, and the security lead at the UK's Ministry of Justice. Overall, he has more than 20 years of experience in upgrading the business strategies of various organizations.
Dr. Paolo Tasca is the co-founder of Quant. He's a digital economist and entrepreneur specializing in distributed systems. Tasca has served as a special advisor on blockchain technologies for the United Nations, European Union Parliament, and numerous central banks worldwide. He also co-founded the Retail Blockchain Consortium.
Gilbert Verdian came up with the blockchain project idea while working in the healthcare sector. He identified the role interoperability played in covering patients registered on different networks.
Verdian launched the company's flagship product, Overledger, in 2017. The Overledger Network includes gateways to connect different blockchain networks within the same blockchain ecosystem. The multiple blockchain interactions ensure that there's no reduction in network efficiency and interoperability on a global scale.
The Overledger is reputed to be the first blockchain operating system (OS) built for blockchains. The idea behind Quant's operating system is to let developers build decentralized multi-chain applications (MApps) for customers. Quant bills the blockchain-based project as the platform on which the future digital economy ecosystem will be built.
The central role of QNT tokens is to provide digital access to a particular service or an application (MApp). The QNT token first hit the crypto market in August 2018 and enjoyed a steady increase in value through the end of the year. The token entered the top 100 coins by market cap in February 2019.
In January 2021, Quant launched a 1.5 update to the Overledger OS. The new update provided MainNet access for Bitcoin, Ethereum, and Ripple blockchains.
The announcement shot up Quant's price to over $40, up from about $11 in the early days of that month. The token's price has continued its rise after new updates. As of writing, the Quant price is hovering around $197.
Additionally, the maximum supply of QNT tokens is set at 14,612,493 tokens. While the company advisors got 651,000 tokens issued to them, the company reserve got 2.6 million tokens.
How to Buy Quant (QNT)
Follow our step-by-step guide below to start investing in Quant (QNT) right away!
Step #1: Find the Best Cryptocurrency Exchange for QNT
First, you must choose a reputable exchange suitable to your investment strategy among the multiple cryptocurrency exchanges out there. The exchange you select must offer market access to the crypto, allowing you to buy QNT.
Only a few cryptocurrency exchanges are available in the US, EU countries, and other continents that support Quant.
After finding an exchange that offers users access to Quant, you must consider the transaction fees on the platform to avoid hidden charges added by some crypto exchanges.
We've got some suggestions to help you out:
Binance
Binance offers market access to Quant. The Malta-based cryptocurrency exchange is currently the world's largest trading platform by market cap. Plus, it's known for its easy payment method, low fees and has more trading pairs than most of its competitors.
Coinbase/Coinbase Pro
Coinbase and Coinbase Pro also allow you to buy QNT. Moreover, Coinbase has a reputation for attracting first-time crypto investors due to its ease of use. If you need an advanced crypto trading platform, you can go with Coinbase Pro. The platform boasts the world's second-highest daily trading volume by market cap.
Bittrex
Bittrex is one of the most popular crypto exchanges globally that offer market access to Quant. It accepts credit and debit card payments. The platform's mobile app is relatively easy to use, so you have nothing to worry about whenever you're ready to buy your QNT.
Step #2: Create Your Account
After finding a reliable crypto exchange, your next step should be creating your account on the platform. Generally, most platforms request personal information to verify your identity before activating your account. Yet, the requirements differ depending on your choice of crypto exchange.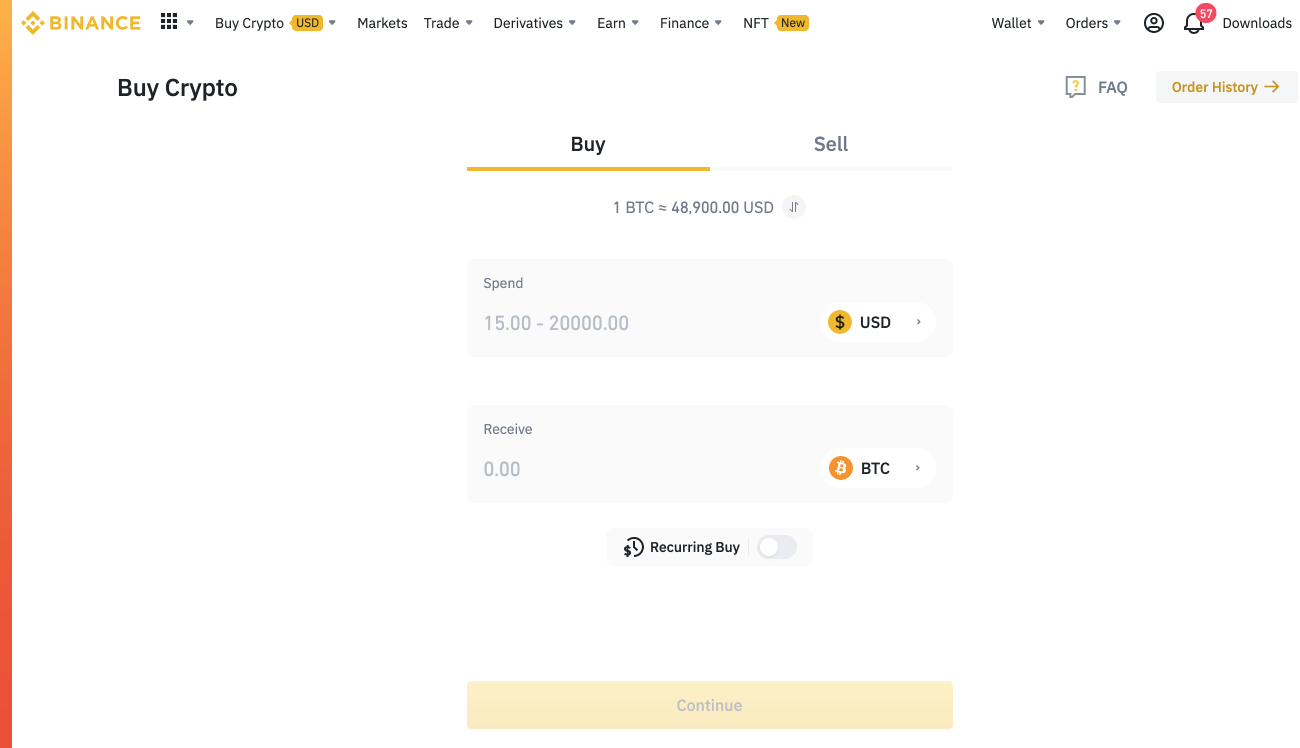 For example, if you're creating an account with Binance, the exchange will request personal information such as your full name, home address, email address, postal code, and a copy of your government-issued ID or passport. You'll need to provide this information to be verified to buy QNT via your account.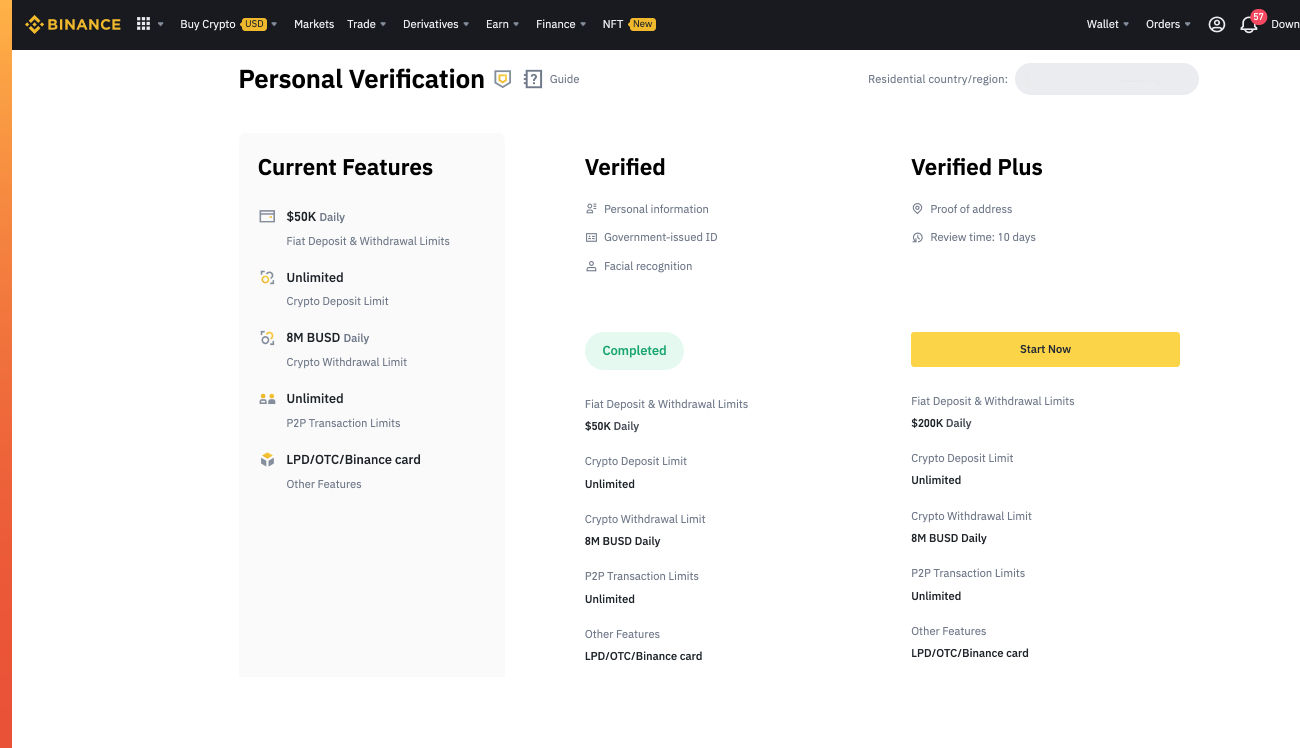 You shouldn't worry about it, as cryptocurrency exchanges have some levels of security to protect your personal information. Once you set up your account and get verified, you'll be set to buy QNT and start trading.
Step #3: Buy a Wallet
You've probably heard or seen some crypto traders talk about "losing their keys" and losing their crypto too. If you can't find your keys, you can't access your crypto.
It's not compulsory, but if you want a reliable place to store your Quant (QNT) for extended periods, you'll need to buy a wallet. Wallets store your crypto's public and/or private keys to keep your transactions safe from third parties.
There are two major types of crypto wallets: software and hardware wallets. Both wallets have their advantages and disadvantages discussed below:
Software Wallet
The strength of software wallets lies in their flexibility and ease of use. A software wallet is the most easy-to-set-up crypto wallet. It lets you interact with several decentralized finance (DeFi) applications quite easily.
However, these wallets are vulnerable to security leaks because they're hosted online—like your bank accounts. So, if you want to keep your private keys in software wallets, conduct due diligence before choosing a wallet to avoid security issues. We recommend a platform that offers 2-factor authentication as an extra layer of security.
Additionally, CoinStats Wallet is one of the most secure software wallets. It helps you store your QNT and other assets safely and monitor your assets' growth in real-time.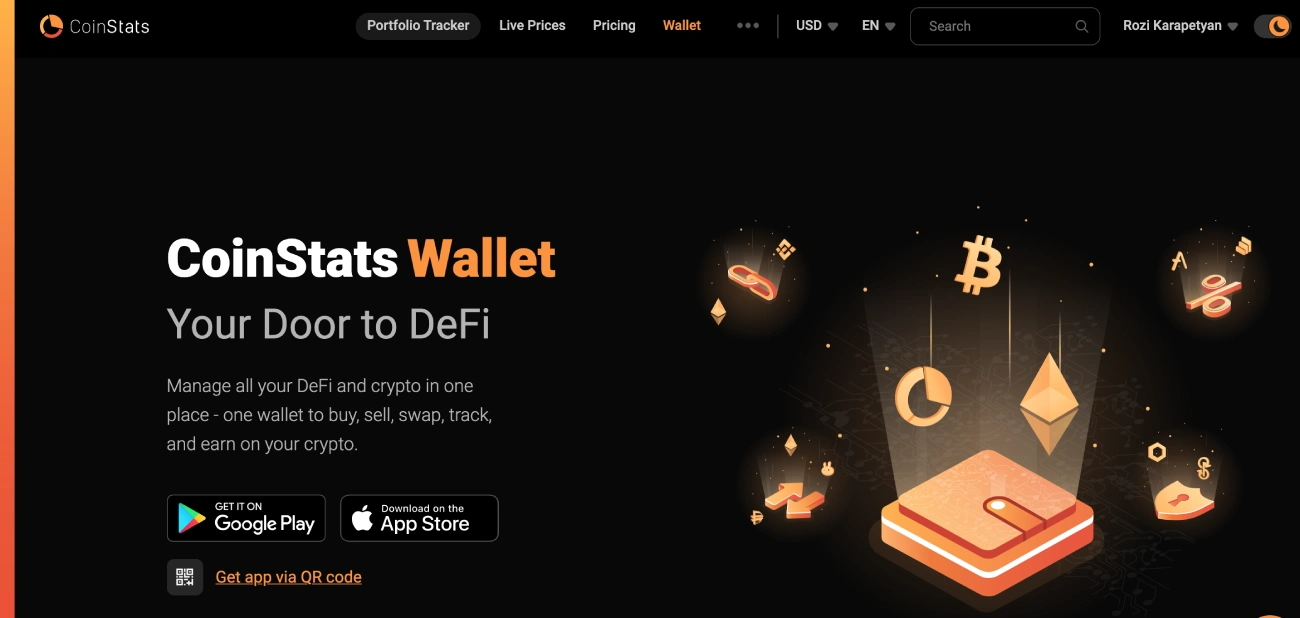 Hardware Wallet
A hardware wallet doesn't operate online but is a physical device—typically the size of a flash drive—that stores your crypto's private keys offline. Hardware wallets are arguably the most secure wallets because they can't be hacked.
However, hardware wallets sacrifice ease of use and accessibility for security. Usually, the owners of such wallets keep them at home and can't access them outdoors.
When you buy this type of wallet, you need to download the platform's software from its website and follow the provided instructions to create your crypto wallet.
Step #4: Purchase Quant
After creating an account on your preferred crypto exchange (and buying a wallet), you can buy your Quant (QNT).
Firstly, you have to deposit funds into your new account. Most exchanges allow you to deposit fiat currency via a payment method of your choice, such as a bank transfer or debit or credit card. Some platforms also accept such funding methods as Apple Pay, Paypal, Skrill, etc.
Alternatively, you can deposit any supported crypto into your account and trade it for QNT. After funding your account, search for Quant (QNT) on your exchange, and click on it. Once you're on the crypto's page, click "Buy," enter the amount you want to buy, and confirm your trade.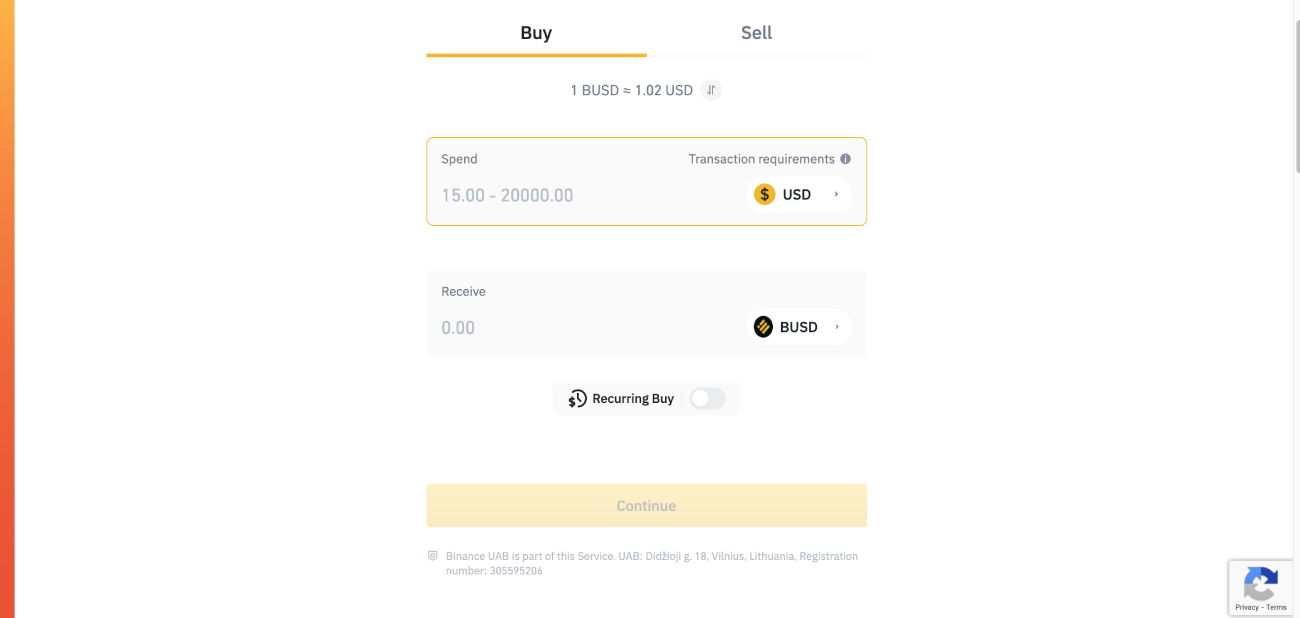 You can also buy QNT through CoinStats. When you click on "buy," it will redirect you to supported exchanges to make your purchase.
After having your Quant secured, you can start trading it against cryptocurrencies, stablecoins, and fiat currencies.
Why You Should Buy Quant (QNT)
The uniqueness of the Quant project is the main reason you should buy QNT.
Innovators have found DLT networks to be important to almost every known industry. Quant is a project that ensures distributed ledger technologies' interoperability (DLT). It lets developers write smart contracts and build multi-chain applications, while the Quant community helps in handling smart treasury contracts.
Quant creates many attractive solutions for enterprises and developers. The network boasts an application that helps in referencing identical messages related to other apps. Plus, the Quant app store can monitor transactions across multiple ledgers.
Also, you can easily integrate the network into the IT infrastructure. Such a move provides enterprises with easy access to decentralization.
The QNT token provides access to the Quant ecosystem and helps run applications. You'll need Quant tokens to pay for licenses if you want to build on the Overledger platform. Also, the Quant (QNT) token works for Overledger clients who wish to transfer assets across distributed ledger technology networks and chains.
Additionally, you can use QNT to pay the developer fees, platform fees, user fees, etc.
You must also hold a certain amount of QNT tokens to access the Quant ecosystem and work with the blockchain operating system.
The Quant (QNT) token's value continues rising with each update of the Overledger OS. The token is currently on a downward monthly trajectory, but its rapid rise earlier in the year suggests it has the potential to rebound.
Final Thoughts
The Overledger operating system of the Quant Network represents the core around which a future digital economy ecosystem is supposed to be built, allowing developers and businesses to build MApps for their customers.
QUANT (QNT) tokens are Etherum-based tokens, which provide impressive returns and access to the Overledger ecosystem. They're utilized to pay for the platform use fees or annual licenses.
As you already know, buying Quant is not as complicated as you might have thought and involves just a few simple steps.
Note that this content only provides you with vital information to help you make informed decisions; it doesn't constitute investment advice, financial advice, or any form of advice.
We hope you've found this article helpful in your quest to buy Quant (QNT). You can also check out our blog for up-to-date crypto news and other informative articles on how to buy Pirate Chain and many other cryptocurrencies.
Meta Description: There's a lot to learn about how to buy Quant, and we have all the help you need in this comprehensive article!