CEX.IO is an international Bitcoin exchange established in 2013 and located in London, U.K. It's a cryptocurrency exchange platform where one can trade Bitcoin, Ethereum, Dash, Litecoin, Ripple, etc., and fiat money such as USD, E.U.R., GBP, and RUB. CEX.IO is registered in the United States Financial Crimes Enforcement Network as a money service business.
In addition to being a trading platform, CEX.IO offers brokerage services, which are well suited for beginners and provides a CEX.IO Prime platform for businesses. Individual traders can also take advantage of margin trading, staking rewards, and more.
CEX.IO allows you to trade crypto with various payment methods, such as credit or debit cards, a wire transfer, a S.E.P.A. transfer (if you live in the E.U.), or an A.C.H. transfer (for U.S. residents).
Our CEX.IO review is designed to teach you everything you need to know about this trading platform, its features, transaction fees, and available services. Let's dive in.
What Is CEX.IO
Established back in 2013 in London, CEX.IO is one of the first platforms to make exchanging crypto assets for fiat currency possible through card payments and bank transfers. Initially, the company, known as Ghash.io, started as a cloud mining provider. At some point, its mining pool held 42% of the total network mining power.
In January 2015, the cloud mining operations were shut down. Currently, CEX.IO operates as a cryptocurrency exchange serving more than four million users worldwide through its website, WebSocket, REST API, and mobile app (available for iOS and Android devices). The company employs more than 250 professionals worldwide, from the U.K. to the U.S., Gibraltar, Ukraine, and Cyprus.
CEX.IO is registered in the U.K. and has a Money Services Business status with F.I.N.C.E.N. It also complies with the legal requirements of the countries where it functions.
CEX.IO applies standard KYC (know your customer) and A.M.L. (anti-money laundering) policies, so to start trading digital currencies on CEX.IO, you'll need to verify your identity.
What Key Features Does CEX.IO Have
The digital currency exchange platform CEX.IO has decent liquidity, allows cross-platform trading, and supplies its users with several features. Here are some of the features you should know about:
Trade cryptocurrencies easily and quickly
Supports over 80 assets
Crypto products like staking, crypto-backed loans, margin trading, spot trading, and order execution trading tools
TradingView with insightful charts and data
Various payment methods – credit and debit cards, bank transfer, or Skrill
Institutional services for businesses and advanced traders
Supports several fiat currencies
24/7 customer support and mobile access
Fixed fees based on the volume of transactions.
CEX.IO Review
Since 2015, CEX.IO has been operating as a cryptocurrency exchange. It has constantly been enhancing its key features for crypto trading, aiming to become a leading exchange platform to provide value to its users. Let's look into them in detail.
CEX.IO Pros
Easy and user-friendly interface
Wide variety of supported crypto trading pairs
24/7 effective customer support
Smooth and straightforward exchange process
Advanced options and a wide variety of services
Insurance for instant card deposits
Licensed and regulated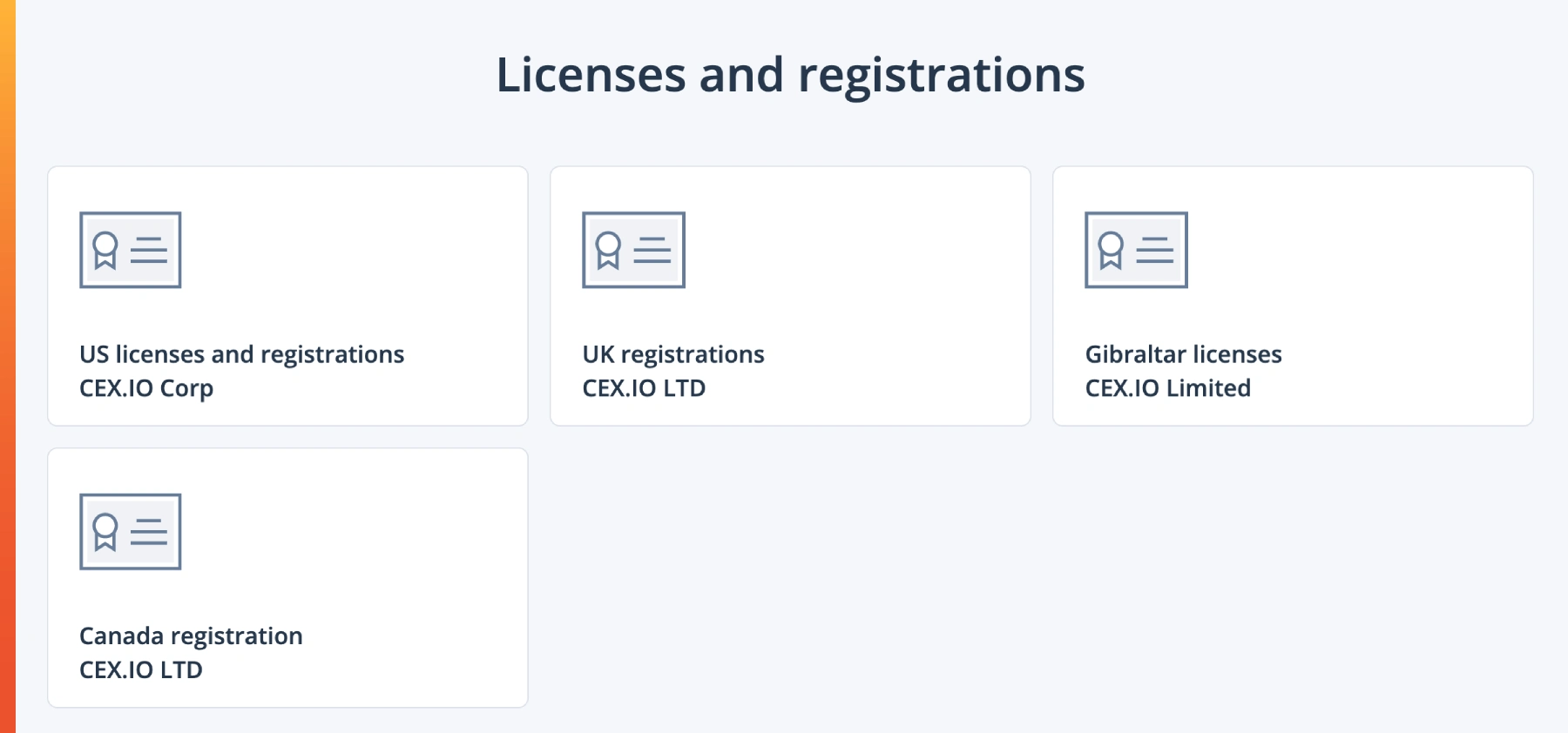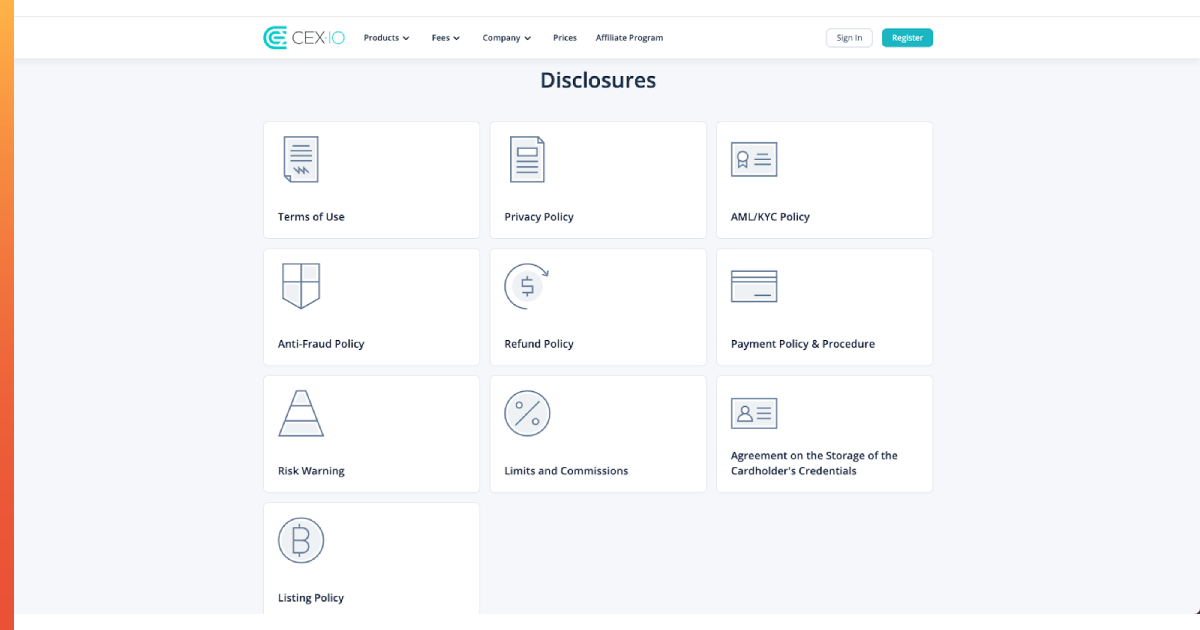 Secure and safe
Available worldwide
Margin trading, staking
Withdrawing fiat funds to a credit card
CEX.IO Cons
Slow and lengthy verification process
Limited coin options
Higher exchange rate for brokerage services
High fees for card payments
Strict deposit limits for Basic accounts
Staking rewards, crypto-backed loans, and savings features not available for U.S. traders
Increased waiting time for transactions.
What Countries Are Supported on CEX.IO
CEX.IO has worldwide support for more than 170 countries.
CEX.IO does not support the following countries for credit card purchases: Afghanistan, Algeria, Bosnia, and Herzegovina, Bahrain, Bangladesh, Bolivia, Burundi, Cambodia, the Democratic Republic of the Congo, Central African Republic, Cuba, Algeria, Ecuador, Ethiopia, Iraq, Iran, Iceland, Kuwait, Laos, Lebanon, Libya, Morocco, Nepal, Nigeria, North Korea, Oman, Pakistan, Palestine, Qatar, Saudi Arabia, Somalia, South Sudan, Sudan, Syria, Uganda, Vietnam, Vanuatu, Yemen, Zimbabwe. Please note that Indian users cannot use MasterCards for money withdrawals.
CEX.IO does not support the following countries for wire transfers: Afghanistan, Bosnia and Herzegovina, Burundi, the Democratic Republic of the Congo, Central African Republic, Côte d'Ivoire, Cuba, Eritrea, Ethiopia, Guinea, Guinea-Bissau, Haiti, Iran, Iraq, Kenya, North Korea, Laos, Lebanon, Liberia, Libya, Nigeria, São Tomé and Príncipe, Somalia, South Sudan, Sudan, Syria, Tanzania, Tunisia, Uganda, Vietnam, Vanuatu, Yemen, Zimbabwe.
What Cryptocurrencies Does CEX.IO Support
CEX.IO exchange supports around 100 cryptocurrencies for trade. Here is the complete list: Bitcoin, Ethereum, Binance Coin, Cardano, Tether, Ripple, Solana, Polkadot, USD Coin, Dogecoin, Uniswap, Wrapped Bitcoin, Binance USD, Litecoin, Link, Bitcoin Cash, SHIBA INU, Matic, Stellar, Atom, Internet Computer, Tron, Multi-collateral DAI, Tezos, PancakeSwap, Aave, Kusama, N.E.O., BitTorrent, Maker, Dash, MiseGO, Compound, Holo, SushiSwap, TrueUSD, Yearn. finance, Curve D.A.O. Token, RenBTC, Zilliqa, Synthetix Network Token, Basic Attention Token, Ren, Serum, Bancor, Uma, Z.R.X., Ontology, 1inch, Loopring, Golem Network Token, Ocean Protocol, Kava.io, Injective Protocol, Reserve Rights, Storj, C.O.T.I., Trust Wallet Token, Venus, P.A.X. Gold, Band Protocol, Kyber Network, FunFair, Utrust, Aragon, API3, DFI.Money, Balancer, Gemini Dollar, Tellor, Bella Protocol, Harvest Finance, Xfers, Rarible, Akropolis, District0x, Cream Finance, G.A.S., Keep3rV1, MStable USD, H.A.P.I., MetaHash, Tael, Lambda, Meta, OntologyGas, Augur v2, Governance Z.I.L., TON Crystal, AurusGOLD, Decentraland, Civic, Zilswap, AurusDefi, AurusSILVER, Jasmy, The Graph, Edgecoin.
CEX.IO allows you to monitor cryptocurrency prices in real-time and provides advanced tools to keep users informed about the market at any time. The platform shows the fluctuations of crypto prices and the history of fluctuation in the past 24 hours, along with each individual coin's market capitalization.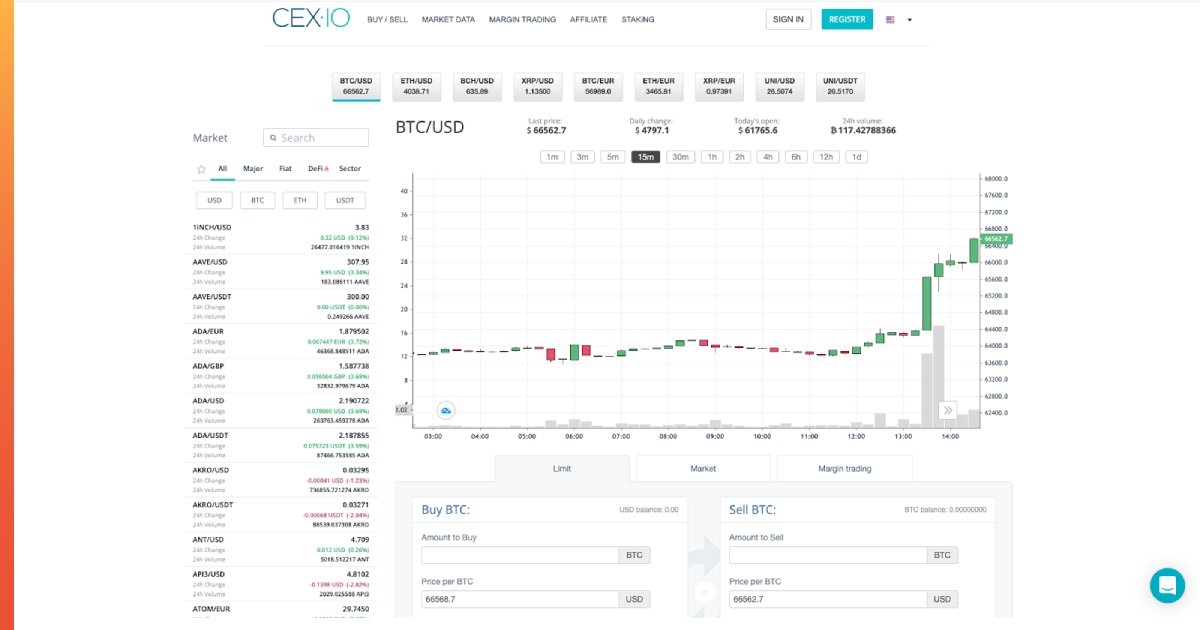 How Does the Identity Verification Work on CEX.io
A basic account at CEX.IO is the default account that you create when you sign up for CEX.IO. The only payment method accepted for fiat deposits using a basic account is a Visa or MasterCard. To fully enjoy the benefits of the CEX.IO trading platform, you'll need to go through an identity verification process. The limits for depositing or withdrawing funds and payment limits also depend on how much of a verification process you have gone through. If users want to withdraw fiat funds or increase their payment limits, they must verify their identity.
There are four different account verification tiers on CEX.IO: Identity Address Enhanced Corporate. Identity verified accounts can buy up to $1000 worth of Bitcoins per day. These users can only use a credit card to fund their purchases. Address verified accounts could buy up to $10,000 worth of Bitcoins per day and withdraw $50,000 per day. Enhanced Corporate verified accounts have no limitations. The total account limits for all these higher-tier accounts are unlimited, but there are some recommended deposit and withdrawal limits associated with each payment method. To become verified, you'll need to submit a scan of a few identity documents:
Your valid government-issued identity document, international passport, or driver's license
Social Security Number for the U.S. residents
Some personal information.
Note that the company may require additional verification in some cases, such as a bank statement, printed internet bills, credit card statements, or mobile phone bills. However, in contrast to other trading platforms, similar requests are rare.
Only after reaching the verified account tier, a crypto user can fully benefit from CEX.IO. Here is how:
Instant fiat to crypto transactions with a debit card or credit card
Card deposits up to $3,000 and withdrawal limits of $10,000 per day
E-wallets as a payment method
Market orders and API tools.
What Payment Methods Does CEX.IO Support
CEX.IO supports more payment methods than most crypto exchange platforms:
Credit or debit card: you can withdraw or deposit funds with Visa or Mastercard. The platform accepts both credit or debit cards.
Bank transfer: SWIFT
ACH for the U.S. only
Domestic Wire Transfer
Faster Payments for the U.K. only
Sepa for European countries
3. E-wallet: You can hold your funds on the exchange's web wallet, but it's highly recommended to move them to one of these wallets:
How Much Are Trading Fees on CEX.IO
Deposit and withdrawal fees on CEX.IO vary depending on the payment methods and deposit or withdrawal amounts. Deposit commissions can be as high as 2.99% in the case of VISA or Mastercard payments or free of charge for S.W.I.F.T. The commissions for withdrawals can be as high as 2.5% of the withdrawn amount plus $1.20 for VISA or Mastercard, or 0.3% plus $25 for S.W.I.F.T., and free of charge for Faster Payments or S.E.P.A. Note that lower fees are applied for GBP deposits with UK-issued cards.
It's also worth mentioning that users who have completed their identity verification only within three months have a maximum daily limit of $1,000 and a maximum monthly limit of $3,000 for VISA or Mastercard payments.
Payment methods
Daily Deposit (min-max)
Daily Withdrawal (min – max)
Deposit Commissions
Withdrawal Commissions
Visa
$20.00 — Unlimited
$20.00 — $50,000.00
2.99%
1.49%
Service charge: up to 2.5% + $1.20
Commission: up to $3.80
Mastercard
$20.00 — Unlimited
$20.00 — $2,500.00
2.99%
1.49%
Service charge: up to 1.8% + $1.20
Commission: up to 1.2% + $3.80
S.W.I.F.T.
$5,000.00 — Unlimited
€300.00 — Unlimited
£300.00 — Unlimited
₽500,000.00 — Unlimited
$5,000.00 — Unlimited
€300.00 — Unlimited
£300.00 — Unlimited
Not available
No fee
No fee
No fee
0.5%
0.3% + $25
0.3% + €25
0.3% + £25
Not available
A.C.H.
Payment
methods
Daily deposit
(Min-Max)
Daily withdrawal
(Min-Max)
Deposit
commissions
Withdrawal
commissions
Visa
$20.00 — Unlimited
$20.00 — $50,000.00
2.99%
1.49%
Service charge: up to 2.5% + $1.20
Commission: up to $3.80
Mastercard
$20.00 — Unlimited
$20.00 — $2,500.00
2.99%
1.49%
Service charge: up to 1.8% + $1.20
Commission: up to 1.2% + $3.80
S.W.I.F.T.
$5,000.00 — Unlimited
€300.00 — Unlimited
£300.00 — Unlimited
₽500,000.00 — Unlimited
$5,000.00 — Unlimited
€300.00 — Unlimited
£300.00 — Unlimited
Not available
No fee
No fee
No fee
0.5%
0.3% + $25
0.3% + €25
0.3% + £25
Not available
A.C.H.
Not available
$5,000.00 — $100,000.00
Not available
0%
Domestic Wire Transfer
$5,000.00 — $100,000.00
Not available
0%
Not available
Faster Payments
£20.00 — £250,000.00
£20.00 — £250,000.00
No fee
No fee
Sepa
€20.00 — Unlimited
€20.00 — Unlimited
No fee
No fee
Skrill
$35.00 — $10,000.00
€35.00 — €10,000.00
£35.00 — £10,000.0
$35.00 — $10,000.00
€35.00 — €10,000.00
£35.00 — £10,000.0
3.99%
1%
Epay
$20.00 — $10,000.00
$20.00 — $10,000.00
0%
1%
Advcash
$20 — $49,999.00
€20 — €49,999.00
$20 — $49,999.00
€20 — €49,999.00
0%
0%
CEX.IO Liquidity
CEX.IO is ranked 14th according to the CoinStats ranking of cryptocurrency exchange platforms by market cap.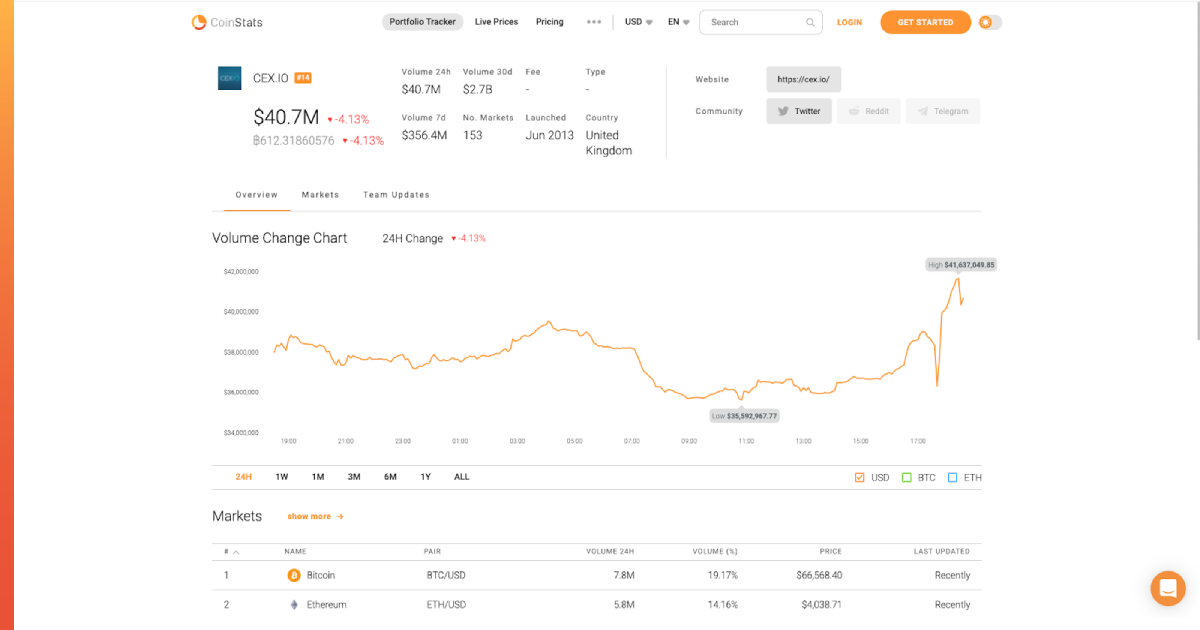 CEX.IO Speed
Let's look into the transaction speed for fund deposits and withdrawals using various payment methods.
To deposit with:
Cryptocurrencies: It may take from 1 to 24 hours and varies from cryptocurrency to cryptocurrency.
Card payment: Your card has to be verified it within 15 to 20 minutes before a transaction.
Bank transfer: International bank transfers can take from 2 to 5 business days. Domestic transfers may take up to one business day.
Wallet transfer: E-wallets can take around 24 hours.
To withdraw money with:
Cryptocurrencies: Transactions may take around an hour to complete if there are no network issues.
Card payment: Transactions will be completed within a few hours.
Bank transfer: Transactions will be processed within a business day.
Wallet transfer: Withdrawals will be completed within a business day.
Margin Trading on CEX.IO
Since 2019 CEX.IO opened a dedicated margin trading service called CEX.IO Broker.
CEX.IO Broker is a platform for cryptocurrency trading via C.F.D.s featuring a variety of orders types, technical analysis instruments, and advanced trading tools. It allows users to leverage their position and increase their profit possibilities.
It is also worth mentioning that this is high-risk trading.
CEX.IO Security
CEX.IO is a PCI DSS (Payment Card Industry Data Security Standard) compliant exchange platform. In other words, CEX.IO meets the requirements for handling customers' financial information.
The platform also enables to set two-factor authentication, 2FA, through Google Authenticator or SMS.
CEX.IO also allows its users to get information about the platform's security measures through infographics.
CEX.IO Customer Support
CEX.io provides almost 100 articles covering an array of questions that users may potentially need help with. They cover topics from account verification processes to payment methods to setting up APIs for trading.
The company's support team can help resolve issues through email communications, phone calls, or a live chat. You can also consider following the company's Twitter page and Telegram channel to stay informed about news, updates, and market analysis.
The support team is available 24/7 and is very effective in resolving various issues.
CEX.IO Mobile Application
CEX.IO is also available as a mobile application both for iOS and Android devices. The mobile app offers full functionality similar to the web version. You can buy and sell crypto or follow interactive charts through the mobile application. Additionally, you can set alerts to get notified about price changes. The application also notifies its users when asset prices fluctuate within a certain percentage over 24 hours. However, these alerts are available only for a limited set of cryptocurrencies.
CEX.IO Reputation
CEX.IO has a good reputation for security. The exchange claims to have never lost a single cent of user funds. It has a relatively long history, high-security standards, and compliance. The company is registered and follows the regulations of all states where it operates.
CEX.IO is registered with FinCEN in the U.S. and as an I.C.O. in the E.U. and U.K. Finally, the company has a good reputation thanks to its technical analysis instruments and valid brokerage transactions.
Final Thoughts
CEX.IO is one of the oldest cryptocurrency trading and exchange platforms. Its user-friendly platform is easy to use both for advanced users and beginners. The company's services are available worldwide. CEX.IO supports several payment methods and, most importantly, offers a wide variety of cryptocurrencies.
The company is compliant with regulations in all of the countries in which it operates.
The downside is the high fees CEX.IO charges for its brokerage service. However, more advanced users can dramatically cut fees by using the trading platform and not the brokerage service.
Also, many people don't like CEX.IOs lengthy verification process. However, it's worth mentioning that it makes CEX.IO safe, reliable, and compliant with legal requirements.
The opinions expressed in this article don't constitute investment advice, and independent financial advice should be sought where appropriate. Do keep in mind that if you use CEX.io, you can easily connect it to CoinStats and manage all your holdings from one place.