Bitcoin SV stands for Satoshi Vision and stems from Bitcoin Cash. Bitcoin Sv claims to be the "original Bitcoin," representing the purest form of Satoshi Nakamoto's original vision of the Bitcoin protocol.
The Bitcoin SV project is a hard fork from BCH after the network upgrade in November 2018. It's backed by CoinGeek Mining with development work by nChain.
The creation of Bitcoin SV was primarily linked to the debate on scaling the Bitcoin blockchain. It was designed to become a technologically advanced version of the original Bitcoin protocol by increasing network transaction speeds and scalability.
Read on to learn everything you need to know about the project and on buying Bitcoin SV.
History of Bitcoin SV: Hard Fork and Satoshi Vision
Bitcoin Satoshi's Vision (BSV) is the result of a debate about Satoshi Nakamoto's vision for Bitcoin and if Bitcoin corresponds or should adhere to this vision. BSV was designed to restore what was the original Bitcoin protocol.
Bitcoin SV planned to increase the block limit to 128MB (later increased to 512MB in a hard fork), thereby increasing transaction throughput on-chain. However, it could also restrict the running of full nodes, as per the vision of a decentralized peer-to-peer cash system.
On November 15, 2018, Bitcoin Cash split into two when Roger Ver and Craig Wright, both known as strong supporters of Bitcoin Cash, couldn't agree on how to proceed. Ver supported the current Bitcoin Cash rather than the proposed hard fork currency. On the other hand, Wright, who has claimed to be the pseudonymous Satoshi Nakamoto on various occasions, believed that the BCH software should expand the maximum block size from 32MB to 128MB. He believed this upgrade would keep with Satoshi's original idea for Bitcoin.
The Bitcoin ABC faction, the leading Bitcoin Cash client, ultimately won the majority of the network hash rate and retained the name Bitcoin Cash.
Bitcoin SV is led by nChain, a research and development technology firm building tools, protocols, and applications to support blockchain growth worldwide. It views cheap peer-to-peer transactions as the core value proposition of the network and is dedicated to increasing block sizes and on-chain transaction throughput.
On the day of the split, analysts forecasted that Bitcoin ABC (retaining the original name Bitcoin Cash) would likely prevail, receiving up to 60% of total hash power. On that day, Bitcoin Cash traded at about $289, while Bitcoin SV traded at about $96.50.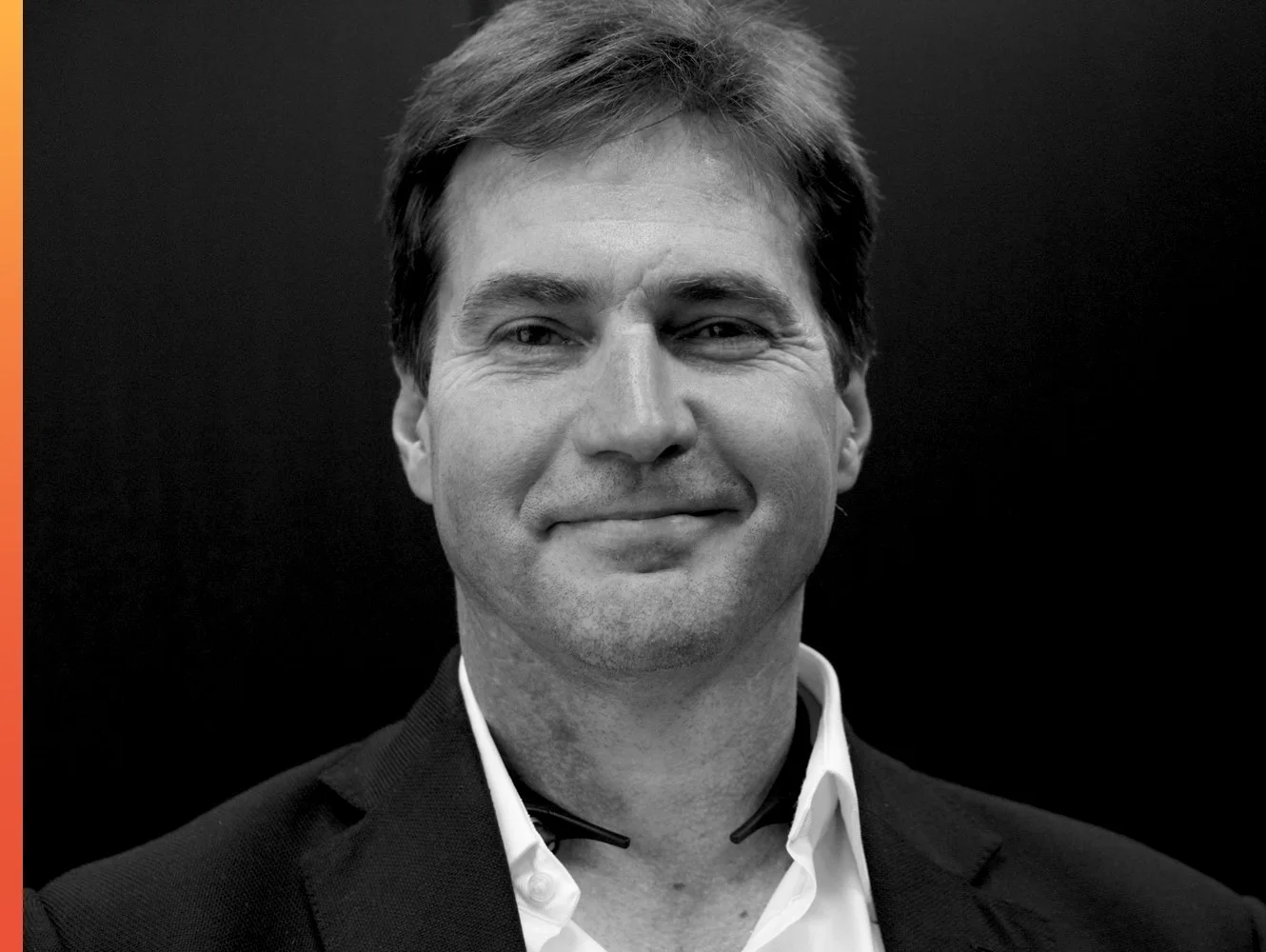 BSV creators claim that the coin has the potential to "replace every payment system in the world with a better user experience, a cheaper merchant cost, and a safer level of security."
Why You Should Choose Bitcoin SV
Bitcoin SV has remained in the top 20 cryptocurrencies by market capitalization since it started circulating. Bitcoin SV claims to be the original Bitcoin to restore the peer-to-peer electronic cash system.
Bitcoin SV is focused on stability, scalability, security, and safe instant transactions. It has re-enabled the op_nodes that Satoshi implemented, providing the potential methods needed for smart contracts, tokenization, and other advanced functions.
Although most of Bitcoin's (BTC) financial crypto value has been deprecated in the new Bitcoin SV (BSV), additional features, such as scalability, make up for this. Bitcoin SV can power a minimum of 50,0000 transactions per second. Payments are instant, the contract settlements are highly reliable, and their implementation is flexible. BSV is thus reliable, secure, and fast.
Bitcoin SV is more than two thousand times more efficient than other altcoins such as Ethereum. This is due to the implementation of the efficiency of parallelization that is native to the original Bitcoin network. Resulting from the Genesis upgrade, it is now possible for altcoins to use a wide range of proof-of-work protocols.
In addition, it is now much easier to deploy apps, non-fungible tokens (NFTs), and smart contracts, as they can be developed in programming languages such as sCrypt, JavaScript, and Bitcoin script.
Bitcoin SV's Metanet internet protocol has a Directed Acyclic Structure, where transactions are directly linked, one to another. Bitcoin SV's protocol is excellently designed and is more efficient and reliable than other structures like HashGraph and IOTA.
Bitcoin SV aims to serve as a comprehensive blockchain solution to individuals and organizations, particularly in the area of scalability. Its larger block size is an indicator of its capacity to support far more transactions than other altcoins.
Where Can You Buy Bitcoin SV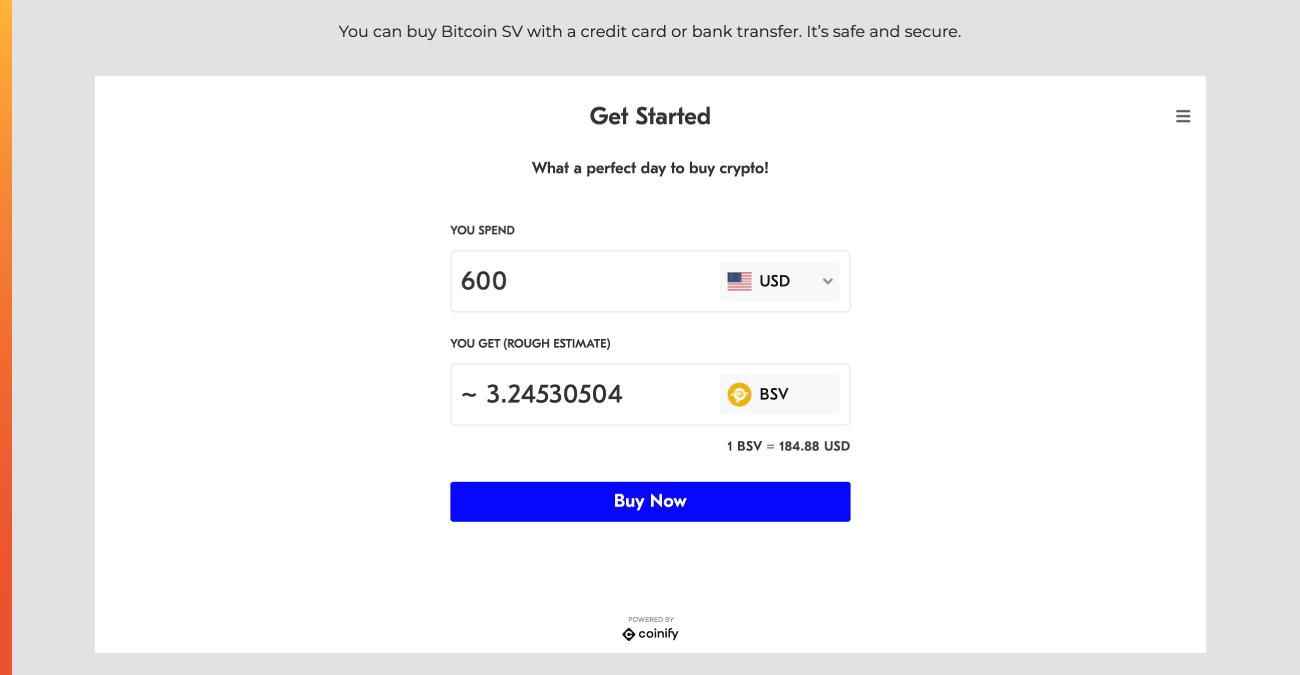 To buy BSV, you need to choose a cryptocurrency exchange that supports it or buy it from Bitcoin SV website. The top crypto exchanges for trading in Bitcoin SV are currently OKEx, FTX, Huobi Global, ZBG,  Bitfinex, Bittrex, Bithumb, KuCoin, and other additional platforms.
How to Buy Bitcoin SV
Unlike other leading cryptocurrencies, BSV cannot be directly purchased with fiat currencies. However, you can still easily buy this coin by first purchasing Bitcoin from any fiat-to-crypto exchanges and then transferring to the exchange that supports this coin.
Follow our step-by-step-guide on buying Bitcoin SV:
Step #1: Register on Fiat-to-crypto exchange
The first step is opening an account with a crypto broker that supports BSV trading. After opening your account and submitting a bit of personal information, all you have to do is purchase any popular cryptos directly with fiat currency.
Step #2: Buy Bitcoin (BTC) with fiat money
Once you finished the KYC process. You will be asked to add a payment method. Here you can either choose to provide a credit/debit card or use a bank transfer. You will be charged higher fees when using cards, but you will also make an instant purchase. In contrast, a bank transfer will be cheaper but slower. Depending on the country of your residence, some countries will offer instant cash deposits with low fees.
Step #3: Transfer your BTC to an Altcoin exchange
The next step is to transfer your newly purchased Bitcoins to an exchange where you can trade BSV, including Gate.io, HotBit, and ProBit. Note that you will be required to create an account and undergo 2-factor authentication before using these platforms. After doing this, you will then have access to your crypto exchange wallet.
Step #4: Trade Bitcoin SV
Now, you are all set to swap your BTC for BSV. You can proceed with buying another altcoin, e.g., Ethereum. Consider that you can swap the direct equivalent of the coins you choose, including any transaction fees.
How to Buy Bitcoin SV From CoinStats
To buy BSV on CoinStats, all you have to do is to register an account. CoinStats is one of the best crypto platforms around. It allows cryptocurrency investors to check current market prices, along with in-depth information on several of the biggest and fastest-growing cryptocurrencies. With CoinStats, you can easily view real-time prices of Bitcoin SV and other coins, the market cap, trading volume, and price timelines all in one place.
CoinStats is also cryptocurrency research and portfolio tracker app that provides valuable information and investment advice to help investors make better decisions. It's highly recommended for investors seeking to diversify their crypto portfolios.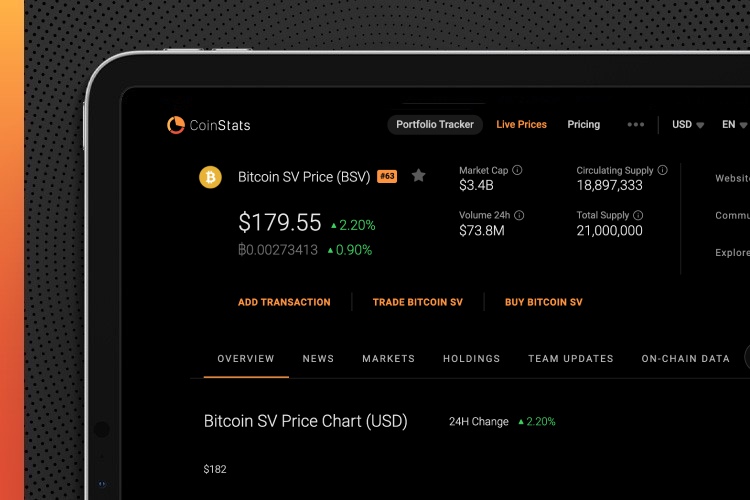 Check out how to buy Bitcoin (BTC), how to buy Bitcoin Gold (BTG), how to buy Bitcoin Cash (BCH), and BSV price on Coinstats for our more detailed guides.
How to Store Bitcoin SV
Now that you have successfully bought Bitcoin SV, the next step is to store it safely. A digital wallet is one of the safest ways to store Bitcoin SV. It contains a pair of public and private cryptographic keys. You can link your wallet address to the exchange.
Bitcoins can only be kept in Bitcoin wallets. Choosing a wallet, you must consider important factors like types of cryptocurrency supported, level of security and privacy, convenience, user interface, fees, customer support, and built-in services. You also need to consider what type of wallet works best for you. While hardware wallets are more expensive than software options, they provide you with the highest possible level of security for your cryptocurrency investments. They are also quite easy to set up and have great user interfaces.
Other Tools for Trading Bitcoin SV
As the blockchain network is decentralized, users are fully responsible for protecting their coins. While using a hardware wallet allows you to store your cryptos in a safe place, using an encrypted VPN connection while you trade makes it harder for hackers to steal your sensitive information.
A VPN service will help protect your account against hackers seeking to gain access to your hard-earned crypto funds.
What to Expect From Bitcoin SV in the Future
As you can see, the Bitcoin SV team focuses on what they want to achieve in the future, and its goal seems feasible. Specifically, with as many as 5 billion users per day due to its scalability, Bitcoin SV hopes to provide a "stable protocol with on-chain scalability" for worldwide transactions.
Yet, the cryptocurrency market is constantly changing — and the value of BSV can be influenced by how other coins and tokens are moving in value.
Conclusion
Bitcoin SV has many similarities with Bitcoin and Bitcoin Cash. However, it has also distinct features and differences, including:
Stability and scalability by increasing block size.
Higher levels of protection and competition with PayPal, Visa, and Mastercard.
Lower commission fees and fast transactions.
The success of BSV depends on its adaptability to both miners and users, price fluctuation being the most problematic factor preventing companies from adopting it.
Users will find BSV valuable as it can facilitate financial transactions at nominal fees. Whether you are an advanced trader or a beginner, you can benefit by trading BSV on recognized exchanges.