US Dollar Coin (USDC) is a stablecoin—a cryptocurrency token pegged to the value of a real-world asset, the U.S. Dollar.
The stablecoin market is one of the most interesting ecosystems in the cryptocurrency space, and stablecoins have become a trendy asset class. They are backed by fiat currencies, and most prominently, the dollar. Their stable value has made stablecoins attractive for investors.
Read on to learn everything you need to know about USDC and how to buy USD coin USDC.
What Is USD Coin (USDC)
The U.S. Dollar Coin is a stablecoin and dollar-denominated cryptocurrency that runs on the Ethereum blockchain. USDC is issued by regulated financial institutions, backed by fully reserved assets, and redeemable on a 1:1 basis for U.S. dollars.
Each USDC is backed by one U.S. dollar, which is held in a bank account. A publicly available monthly audit by Grant Thornton LLP allows buyers to verify that USD Coin (USDC) is fully backed by USD and always 100% redeemable for dollars.
Unlike other USD stable coins, USDC is governed by Centre, a membership-based consortium that sets technical, policy, and financial standards for stablecoins. Powered by Ethereum USD Coin is an Ethereum token and has expanded to the Algorand and Solana blockchains.
Here are some of the USDC key features:
Regulated: USDC's parent company is a registered Money Service Business in the United States. It's regulated by the government's Financial Crimes Enforcement Network (FinCEN), which combats money laundering.
Audited: USDC is audited by Grant Thornton, one of the top 10 accounting firms in the world.
Fast: USDC offers fast transactions with the stability of the U.S. dollar.
Liquidity: Another advantage of the USD Coin being tied to the U.S. Dollar is its high liquidity.
The U.S. Dollar Coin isn't mined. It's available as Ethereum ERC-20, Algorand ASA, and Solana SPL tokens that can be purchased using U.S. Dollars on several major exchanges.
The History of the USD Coin
Created by Centre Consortium, USD coin was a joint venture between Circle and the popular exchange Coinbase. Circle is backed by several high-profile companies, including Goldman Sachs. The Centre consortium also sets technical policy and financial standards for the stablecoin.
Circle started in 2013 as a way to send money easily and quickly. Since then, it has expanded into cryptocurrency—raising millions in venture capital and acquiring crypto exchange Poloniex.
USDC aims to solve two major issues: high volatility of digital assets and convertibility between fiat currencies and cryptocurrencies. The project introduced a fiat-backed stablecoin with strong governance and transparency, in contrast to Tether. USDC publishes a monthly public attestation of 100% reserves of fiat tokens on CENTRE.io and provides clear rules and guidelines for CENTRE members regarding USDC issuance and redemption. To become an issuer within the CENTRE consortium, members must follow key rules, including licensing, compliance, technology & operations, accounting, and custody of fiat reserves.
USDC is supported on major exchanges as an alternative to fiat currencies.
The USD coin market was created in 2018. Since then, its capitalization has risen from $200 million to above $25 billion.
Even though the USD coin has a stable price, their number has increased significantly.
How to Buy USD Coin
Buying USD coins, USDC is as easy as buying any other digital currency.
Step #1: Opening an online account
The easiest way to start buying USD coins is through Coinbase, especially if you don't have cryptocurrency. If you do, you can sign up with a decentralized exchange like Uniswap.
You can link your CoinStats Wallet and App to Coinbase.
To open an account on Coinbase, enter your email, create a password, and provide personal identification information.
If you already own crypto, you can buy USDC with Ether tokens. You'll need a compatible Ethereum wallet — MetaMask crypto wallet is the best option for Uniswap because it has an easy-to-use Google Chrome extension. After sending your Ether tokens to MetaMask, you can swap them for USDC on Uniswap.org.
Step #2: Getting a digital wallet
Don't store your USD coins on crypto exchange websites; instead, store them in a secure Ethereum compatible wallet, i.e., CoinStats Wallets and Coinbase Wallets. Cryptocurrency wallets generate a set of public and private keys that encrypt your cryptocurrency. They also make it easy to buy crypto instantly.
Step #3: Buying your USD coin USDC
To buy a USD coin, you will need to deposit funds into your account. Connecting your bank account on Coinbase is easy, and you can choose to fund your account via ACH transfer or debit card. Now you are all set for your purchase!
CoinStats is one of the best crypto platforms around. It allows you to check the USD coin price and current market prices, along with in-depth information on several of the biggest and fastest-growing cryptocurrencies.
The Best Wallet for USD Coins, USDC
You can store your USD coins in a software wallet, like Coinbase or CoinStats. Coinbase has a dedicated wallet application that's great for storing your cryptocurrency. You can store Bitcoin, Ethereum, USDC, and several other assets on the wallet's mobile app, free to download. Global transactions USD Coin is designed to let dollars move globally from your crypto wallet to other exchanges, businesses, and people.
Otherwise, you can use a more secure hardware wallet, like Ledger.
The Ledger Nano S is a multicurrency wallet so that you can store all your cryptocurrencies in one place.
Trading and Converting Your USD Coin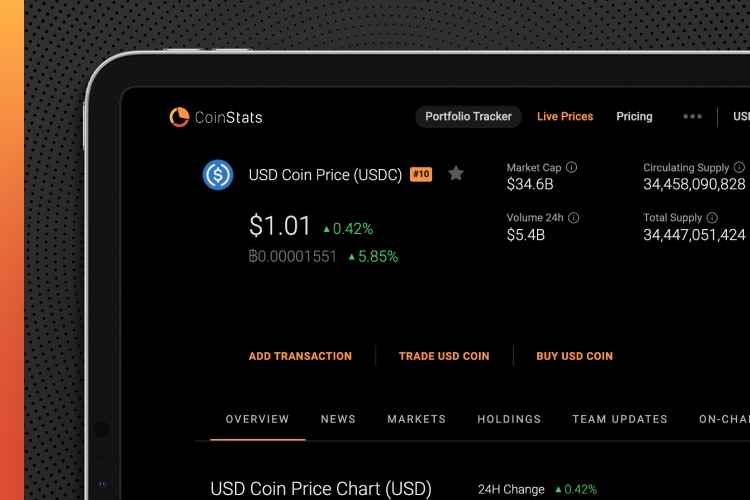 Redeeming your USD Coin for fiat cash is straightforward:
Firstly, a user sends a request to redeem their USDC for USD.
The issuer uses the USDC smart contract to exchange the tokens for USD and takes the equivalent amount of tokens out of circulation.
The user's bank account is then deposited with the requested amount of USD directly from the reserves. The user will receive the equivalent amount of USD Coin requested, minus any fees that have been incurred.
Coinbase is not the only exchange where users can buy and trade USDC. The currency is now widely supported on other exchanges such as Binance (paired with BTC, BNB) and Poloniex (paired with BTC, ETH, XRP, BHC, STR, LTC, ZEC, XMR, DOGE).
Which Is Better, USDC or U.S. Dollar Bank Account
One of the significant advantages of USDC is that, unlike regular U.S. dollars, it does not require a bank account and isn't limited to a particular geography.
Another advantage of USDC is that it can be transferred anywhere in the world in minutes and is much cheaper to use.
Among the key reasons for holding USDC is its rand hedge properties. You can also earn interest on your USD coins.
The bottom line is that USDC is beneficial for all crypto users, as it has a stable dollar-linked value combined with the advantages of blockchain technology.
FAQ
How Much is USDC
The price of one USDC is one U.S. dollar, which is always redeemable on a ratio of 1:1.
How Do I Buy USD coin
You can buy USDC from Uniswap, Coinbase, Binance, and with the steps described above.
How Do I Store USDC
You can store your USDC on any Ethereum wallet, like CoinStats Wallet or Coinbase wallet. Otherwise, you can use a more secure hardware wallet, like Ledger.